The 16th annual Greensboro Pride Festival was held on Oct. 1 along South Elm Street downtown. The festival held a record attendance of 45,000 to 50,000 people.
Pride month is acknowledged in June, but the LGBTQ+ community and allies came together for this fall celebration. Brenda the Drag Queen and Lawanda Jackson hosted the free event. Entertainment was scheduled from 11 a.m. to 6 p.m.
Drag talent was showcased, including headliners Heidi N Closet and Lala Ri. Closet, the 2018 Greensboro Pride Queen, also competed on season 12 of RuPaul's Drag Race. Lala Ri participated in season 13 of RuPaul's Drag Race.
The festival opened with a presentation of colors and the national anthem performed by the Triad Pride Performing Arts. 
Throughout the day, various entertainers and businesses filled the streets. The Kidzone concert also expanded the event to include local youth talent.
A technicolor display of outfits and makeup styles filled the space. To contribute to the fun, local vendors gave away free accessories and played their music mixes.
Shanaya Aristide, a freshman psychology student, went for the first time and shared her experience.
"It was great seeing other people of the LGBTQ+ community be all out and proud of who they are," Aristide said.
Many entertainers were drag queens or queers and interacted by promoting the upliftment of the LGBTQ+ community.
The festival promoted queer culture through dance by having performances from the Greensboro Ballet, as well as N.C. A&T's first plus-size dance team, Liquid Gold. 
Jada Mayes, a junior mass media production major, founded Liquid Gold.. She has previously said that the team encountered obstacles in gaining recognition on campus as an official organization. 
"We need the exposure," Mayes said. "It's good to have some representation, not just for A&T, but for Black people everywhere and plus-sized people everywhere."
The dance team was booked for the pride festival after they applied months prior on the Downtown Greensboro events website. 
Liquid Gold performed an original medley with music from Beyonce's recent album "Renaissance," inspired by the queer dance community.  
Alternative Resources of the Triad, a Greensboro volunteer-run nonprofit, was responsible for organizing the sponsors and venue of Greensboro Pride.
Their mission statement includes "[improving] the emotional and social wellbeing of LGBTQ+ individuals by building resources, safe spaces and social events."
For those who attended, resources were not limited to physical contributions. Organizations also provided educational background on LGBTQ+ sexual education.
"I learned how much we aren't taught about same-sex education, and the lack of that teaching impacts members of the LGBTQ community." said freshman pre-nursing student Natalie Frederick. 
Public response to the festival has been positive, and social media posts from the day were also shared on students' timelines. 
"It was very welcoming. Moms and dads were giving out free hugs," Mayes said. "Performing and seeing little Black girls in the crowd really warmed my heart."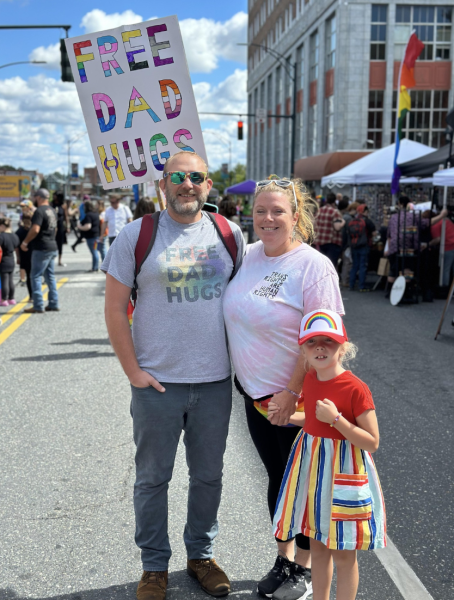 The Greensboro Pride Festival aims to create a fun and inclusive event for everyone since its first festival in 2006. Patrons can expect the event to return next year on Sept. 22, 2024.
For more information on the next Greensboro Pride Festival, stay updated on their Instagram and website greensboropride.org.