Chason Watkins, a sophomore Kinesiology student from Charlotte, North Carolina, brings a new look into the fashion scene at N.C. A&T with his clothing brand, Legally Funded.
Legally Funded is an affordable streetwear brand promoting making money and gaining success through genuine means. 
"I had a couple of friends who got in trouble for making money the wrong way, so I was trying to preach that there are different ways to make money," Watkins explained. "You don't have to put yourself in danger or criminalize yourself to make money quick."
This new clothing brand's motto is unique to what is already on the market, "I don't care how I stack my paper, I'm all about getting it the right way."
The brand's motto and name stem from Watkins' personal experiences with hustle culture. 
Creating a clothing brand was a goal Watkins had for a long time. It was not until this past summer that he began creating mock-ups of what the brand could look like.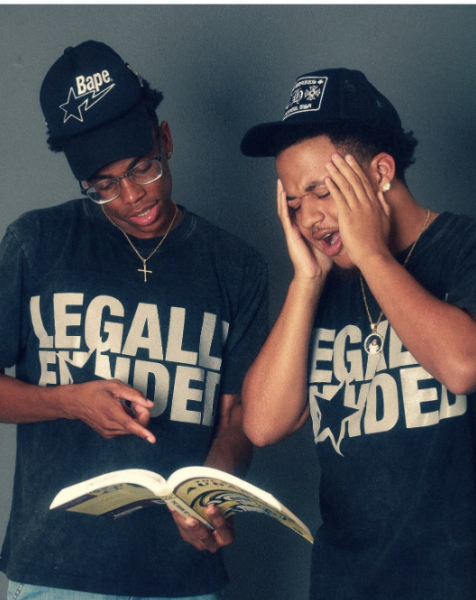 "It was like one in the morning, and I was bored, so I wanted to see if I could make something. I stayed up until 4 a.m. and made three shirts," said Watkins. "I made an Instagram account, posted it, and it got many story likes."
During the summer of 2023, Watkins released his pre-orders for his first drop, The UNO Collection. This collection included high-quality, dark grey acid wash and black t-shirts ranging from sizes X-Small to XXL. 
After the UNO Collection drop in June of 2023, the brand did not take long to take off.
"I didn't expect my first collection to do as good as it did. I only sold fifteen shirts when it first dropped, but I ensured they only went to A&T students," said Watkins. "On the second day of class, they all wore their shirts, and everyone asked where they got their shirt from. I got 500 followers in one day."
With much positive feedback, Watkins began assembling a team to continue growing his brand. His executive group, models, and brand ambassadors greatly help promote Legally Funded and execute the vision. 
Even with only six months of experience, Watkins has key advice for creatives who 
may want to start their own business.
"Be comfortable with stepping outside of the box," he said. "Somebody is going to buy it if you promote it. You might not sell out on the first day, but everybody has enough money to win." 
Outside of his brand endeavors and academics, Watkins volunteers with For Our Youth, a program to mentor children at Washington Montessori Elementary. 
After this fall semester, Watkins plans to switch his major to fashion merchandising to educate himself about the fashion industry further. 
"I want to learn more about different clothing materials, GSM (fabric weight), and how to market my brand better," said Watkins "I will continue pushing for good quality clothes and out-of-the-box designs."
Different types of fabrics play a large role in how clothing feels and the design's fit. Compared to other streetwear brands, Legally Funded continues to produce high-quality clothes accessible to the average college student.
The brand's newest drop is the Legally Funded crossbody distressed embroidery hoodie, which accepts pre-orders until Nov. 22.  
Stay up to date on Legally Funded's latest drops through the brand's Instagram and shop on the website.