Carter V Review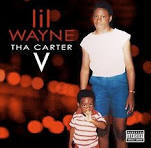 Elijah Mcclure, Contributor
October 10, 2018
On Thursday, Sep. 27th, 2018 the long-awaited "Tha Carter V" album was released by 36-year-old rapper, Lil Wayne.
As a huge Wayne fan, this project was not what I expected from him at all. To begin with, the start of the album did not impress me or have any immediate "bangers." I was expecting several fast, upbeat songs, but Wayne took me by surprise by slowing it down for the majority of the album.
Wayne is known for his amazing wordplay and his lyricism, and I felt this album lacked a little bit of both. Notable songs that did have what I'm used to hearing from him are "Mona Lisa," "Dedicate," and "Uproar."
If you're looking for the old Wayne feel I would recommend listening to those three songs.
The song "Mona Lisa" was the best song on the album to me because he told a story and he used excellent wordplay. Also, rapper Kendrick Lamar's verse was outstanding in the way it complemented Wayne's story in the song.
Within the album, Wayne referenced his influence on the rap industry today, his struggles with fame and how he handled his dispute with his rap father, Birdman.
Wayne also showed his love and respect for his mother by placing audio of her interview at the beginning and end of several songs. In fact, the album cover features a picture of him and his young mother holding hands.
Wayne started off the album with a slow song featuring deceased rapper XXX Tentacion called "Don't Cry."
At first, this song threw me off for his first song to introduce us into the album because it's such a sad song. However, it eventually made sense to me that Wayne probably placed this song first to pay his respects to the young deceased rapper.
The line, "If heaven is as good as advertised I want an XXX-tension on my afterlife rest in paradise" was a good way to pay homage in the song.
Moving along, I noticed Drake was not seen on the list of features and wondered why wasn't he featured. Wayne and Drake are known as one of the best rap duos. Seeing Nicki Minaj led me to believe he eventually would be on the album, but such was not the case.
I believe Drake's appearance on the album would've made this album a little better.
To compare this "Carter" to the others just yet would not be fair. "Carter II" and "Carter III" have tons of hits that are deemed as classics, with songs such as "Amili," "Got Money," "Fireman," and "Best Rapper Alive" are a few.
To say this album will have songs thought of as classics in the future is hard to say just yet. Although there are various opinions on whether this album is good or bad, the numbers don't lie. The hype over the release of this album has projected Wayne to sit atop the billboard 200 chart.
The way he started off the album wasn't that great to me but he ended it with a great song called "Let It All Work Out." He talked about his suicide attempt when he shot himself as a child and told his fans to never give up on life.
To give my overall rating of "Tha Carter V," I give it an 8 out 10. I believe that it was a good album, but not a fantastic one.
I believe for certain his next project will be the one to silence all the critics.