AMERICAN HORROR STORY: APOCALYPSE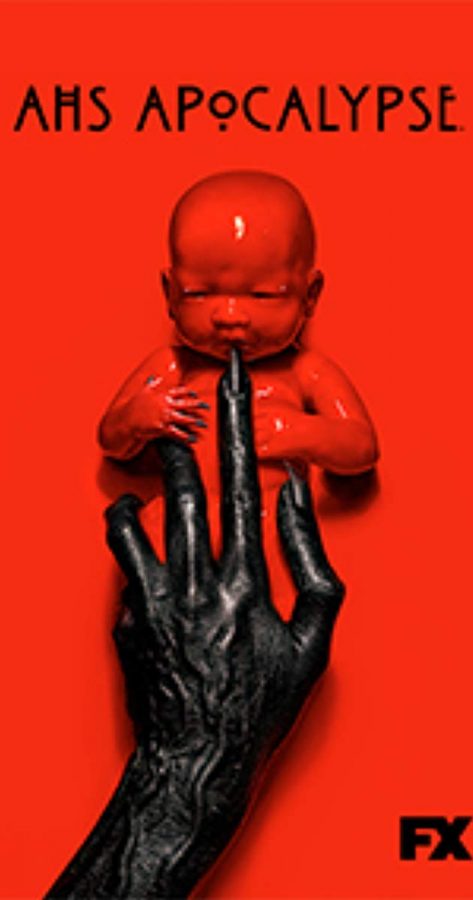 Taylor Mitchell
October 15, 2018
Hit series "American Horror Story" is back with a highly anticipated eighth season. The anthology series takes place within the new theme, "Apocalypse."
After nuclear bombs hit major cities across the world causing catastrophic destruction, everything society once knew is gone.  
Los Angeles falls to dust and only the rich and specially chosen people being the only ones protected from the bombs. A rich spoiled brat, her hairstylist, an old-school icon, a talk show host, two "perfect genetic" teenagers and a few others are taken to a discreet location hidden from the world where they are the only surviving humans.
At least that's what they think.
Those protecting them are a group called the "The Cooperatives" which is a secret society funded by the elite and rich to continue society once the nuclear winter begins.
The discreet location is known as "Outpost 3," where the group of people are held and in control of the leader of the outpost, Mrs. Venable, where she places strict rules on them.
These rules include things like the chosen must wear purple at all times to distinguish them from servers who wear gray and the supervisor who wears black. Other rules include no back-talking to supervisors, no sexual relations between guest and never, ever go outside.
Now, the world once filled with smartphones and Starbucks is taken over by death and decay and the surviving people must sit and wait for rescue as their food supply continues to shorten.
In its typical way, this season of American Horror Story is gritty, dark and comedic. Creator Ryan Murphy has created a perfectly blended horror and comedy series with creators which makes the audience instantly fall in love.
Recurring actors, Sarah Paulson and Evan Peters, who have been in almost every season of the series, are back for the new season, too. Their ability to take on these new characters that are usually very different than previous characters is astonishing and leave many in anticipation for what is to come next.
While many expected a return of "Coven" (an AHS fan-favorite season) the new season theme, "Apocalypse," is a pleasant surprise so far. The end of the world theme is similar to "Coven" in its dark magic undertone within the season.