A Rodeo on Astroworld, Featuring McKnight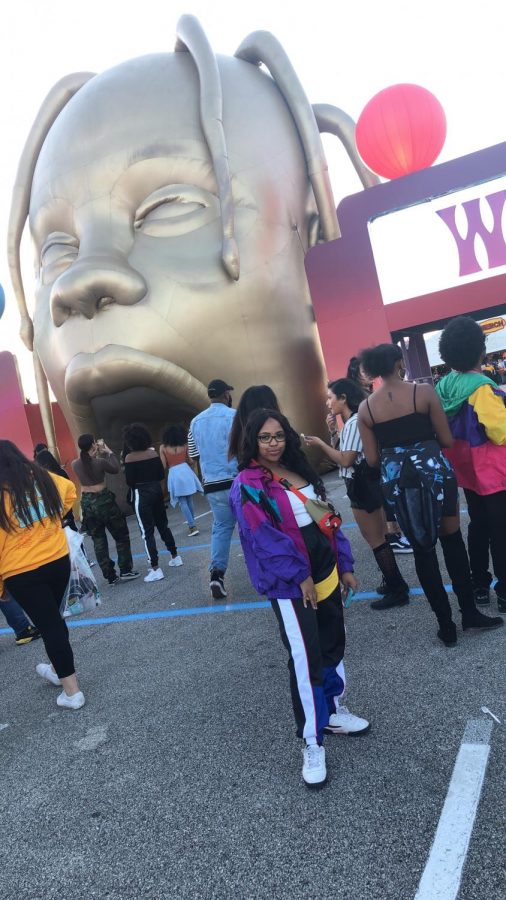 Allison Gilmore, theWORD Editor
November 20, 2018
"Open the f***ing circles up," yelled Travis Scott at a crowd of over a thousand people. l look to my right and see a group of people beginning to form a circle. It's a mosh pit. A group of guys and a few girls are inching into the pit, ready to rage. Scott instantly drops the beat to "Stargazing," and the rage begins.
As a 4'9" black woman from St.Louis attending an HBCU, l have never seen anything like this. People from all ethnic groups violently thrusting into each other, throwing beer, and occasionally punching each other in the face was so unreal. But it was happening right in front of me.
Astroworld Festival was held on November 17 in Houston's NRG Park. The festival included rides, arcade games, food trucks, and two concert stages. Acts included Young Thug, Post Malone, Rae Sremmurd, Paul Wall, and Lil Wayne. The diverse crowd was ready for whatever. Scott did not release the lineup of the artist until the day before the fest. Hours after the lineup was released, the set times for all artists were released.
People scattered like ants trying to run from stage to stage to catch their favorite artist. The hardest decision came at the last three sets: go to Post Malone and stay and wait an hour to see Scott, all while missing out on Lil Wayne, or skip Post Malone to see Lil Wayne but risking being so far from Travis Scott you can't even enjoy it. The younger crowd chose the first option as "old heads" risked it all for The legend himself, Lil Wayne.
When the time came for Travis Scott to perform, the energy was unmatched. No matter where you were in the crowd, you were jumping and headbanging. Scott catered to all of his fans. He performed melodic tunes like "Skelton's," "Goosebumps," "90210" and "Love Galore," just for the ladies. He performed "Carousel" and "Nightcrawler" for the serious ragers. He catered to his "day 1 fans" performing "Don't Play" and "Mamacita" from his first mixtape, "Day Before Rodeo."
He brought out a surprise guest, Nav, to accompany him on "Beibs in the Trap." It was only right to bring back Gunna, one of the headline artist, to perform "Yosemite." Scott also brought back Young Thug, Swae Lee, and Don Toliver to perform hit songs. Before Scott closed the concert with "Sicko Mode," he had a heartfelt moment with his fans thanking everybody for allowing the festival to happen. With a t-shirt over his head, Scott rattled off a list of names from his grandmother, producer and his "wife," Kylie Jenner.
Fans left the park with muddied shoes, black eyes, and sore legs. Latecomers stuck around to ride the Ferris Wheel and Swing as early birds stumbled out the park exhausted.
The festival felt like a different planet. Fans got to literally experience Astroworld.