Who is G0ldiejay?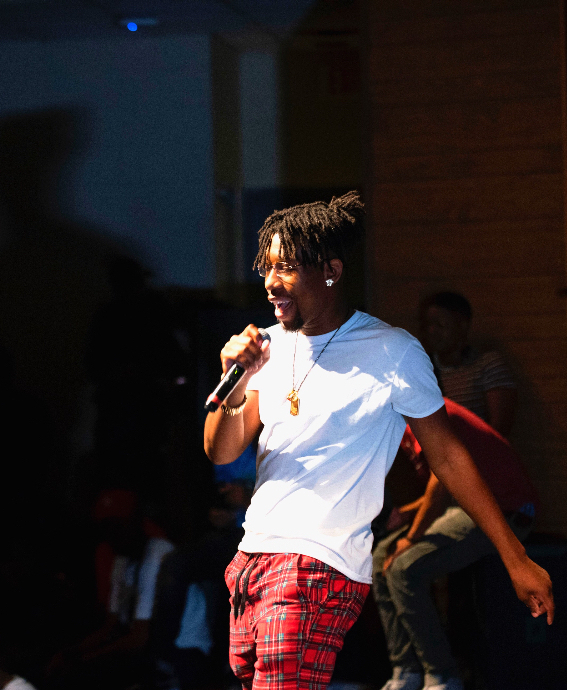 Jaylin Saunders, theSCENE Editor
November 28, 2018
Jaylon Simmons is a 20-year-old Music Education student attending Winston Salem State University born in Virginia Beach and raised in Fayetteville, North Carolina. But there is way more to this student than that. When Jaylon isn't slammed with school work like, a lot of college students are, his doing what he loves and that is making music as G0ldiejay.
His journey in music
G0ldiejay has a deep love for music and what it does for people. When asked how long he had been doing music he said: " I've been doing music since I was like 5 years old, I was playing drums and teaching myself all about music and playing anything I could get my hands on but I kind of fell off when I started playing football." Jaylon played football which he loved to do very much but in his senior year of high school, his call back came in the form of a heartbreak.
"After a terrible relationship, I felt that I needed to go back to making music. The relationship put me in a state of depression. I turned to drugs to deal with the heartbreak." He continued saying "It got to a point where I didn't want to be on this earth and  I tried to kill myself by overdosing. But music is what got me through those dark days."
Music saved Jaylon's life which inspired him to keep going and it is what he wants to do for others as well. "With my music, I want to steer people from the path I was on. I want whoever listens to my music to forget every problem they have and just vibe out. With every song that they listen to I want them to feel like they're on vacation." The music genres he says he falls under is  Hip Hop and Dancehall but he says he is very versatile in all genres. He is doing the music for his benefit and for the benefit of others which is great when looking for a genuine artist.
His Inspirations
He has a lot of inspirations when it comes to his music. Jaylon's Mother was a songwriter and his Uncle was a producer and singer. Some more his musical inspirations are PumaXay, FazeNC and a group called DTR, which both are from Fayetteville. More musical inspirations of his are Gyptian, Young Thug, Rihanna, Chris Brown, Drake, Swae lee, and J. Cole.  But some of his biggest inspirations come from outside of music.
G0ldiejay said that the quarterback of his football team, Jamel Joliffe, was one of his biggest inspirations because of the vibe he always gave off he explained saying "He was always in a good mood. He had his own problems but always stayed up and just lived a happy lifestyle and his vibe reflected onto my music."
Another big inspiration for Jaylon was his friend, Desmond Boone, who had his own clothing line called  "EVOL". "Watching him build and work on his clothing really taught me that if you really want to do something you need to be very dedicated to it." He continued saying "It taught work ethic and the means that I need to take to perfect my craft."
Going forward
Jaylon always wants to be able to share music in his life. Aside from doing music, in the future, he wants to take what he learned in Music Education and become a music teacher so he'll always be involved with music and sharing it with people.
But in the near future, G0ldiejay is about to drop a new song titled My Future Love(MFL). It'll be dropping soon so be on the lookout! If you want to check him out for yourself his IG, twitter, youtube, and SoundCloud are all g0ldie.j4y.  Be sure to listen to the music and really get to know G0ldiejay!