Nya Nicole Hodge brings home cooked meals to students on campus
N.C. A&T junior construction management student Nya Nicole Hodge is bringing "home" to many students on campus with her passion and desire for creativity. She has launched her first cooking business with hopes to bring comfort and happiness to people while also sharing the importance of a home cooked meal.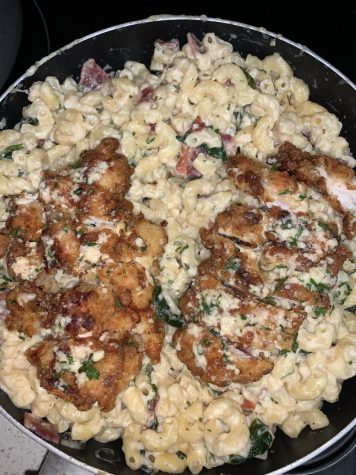 Prior to the pandemic, Hodge had never considered cooking and selling plates as her aspiration had always been to become an architect. 
Hodge studied architectural engineering while attending Durham Technical Community College in 2019. After transferring schools, she decided to refocus her studies to align with her interests in commercial buildings. 
Hodge enjoys activities that tap into her creativity such as sketching, writing fictional stories, reading books and taking walks on trails. It was not until the shutdowns that she found inspiration to begin cooking more for her peers.
"I enjoy making others smile," Hodge said. "We're here for a good laugh and time together."
She began hosting brunches, dinners and other events for her close friends making a variety of dishes from her turkey burger sliders to her famous stuffed seafood salmon. Hodge likes to explore and always tries to create a diverse group of dishes. 
"Every time I make a special dish or something that everyone might be craving, I write it down," Hodge said. "I have a notebook full of recipes that maybe one day I'll be able to publish [into] my own recipe book."
Hodge enjoys the endless realm of opportunities in the kitchen. Like her major, cooking allows her to explore her creativity.
"Every time I cook, it's like therapy," Hodge said. "I cook to release and bring joy into not only my life, but also others."
That is what motivates her. With each dish she creates and sells, Hodge hopes to bring happiness and comfort to others.
Although cooking is not one of her long-term goals, Hodge does hope to one day publish her own recipe book. Hodge enjoys making a variety of dishes from her famous chicken parmesan to her stuffed seafood shells. 
"Considering that a lot of A&T students are not from Greensboro, my plates are here to transport [students] back to their own kitchens," Hodge said. "This is what motivates me to continue creating plates."
For more information on her upcoming menus and deals Be sure to follow Hodge on Twitter.