#1 HBCU Host CDK on the Mic and King Combs make surprise appearance at the Aggie-Eagle Classic
King Combs left fans at the Aggie-Eagle Classic blown away in amazement with his surprise appearance. Combs made a surprise appearance on Saturday at Bank of America Stadium as he performed his hit "Can't Stop, Won't Stop."
Prior to his performance Combs expressed his excitement to be appearing at the 100th Aggie-Eagle Classic. After seeing the love and support from his North Carolina fans, he wanted to show love to his base. 
The magnitude and atmosphere of the traditional game was almost like coming home for him.
"I'm originally from New York and I grew up a bit in the south," Combs said. "To be out here, it's kind of like coming back home. It's a vibe."
Though he did not attend an HBCU, Combs has always been fond of the dynamic and culture from the student body.
"To be around an HBCU crowd is dope," Combs said. "I've always wanted to perform in front of HBCU so to be here performing 'Can't Stop, Won't Stop' is a blessing."
And the feeling is mutual from the students. Some like N.C. A&T senior Makayla Richardson who says more opportunities like this are needed for HBCU students. 
"I think it is so cool that HBCU students are finally getting the recognition we deserve from celebrities," Richardson said. "A lot of them hop around different PWI's and do pop up concerts. We're finally able to meet artists that are like us and envision us where they are because all of us are superstars."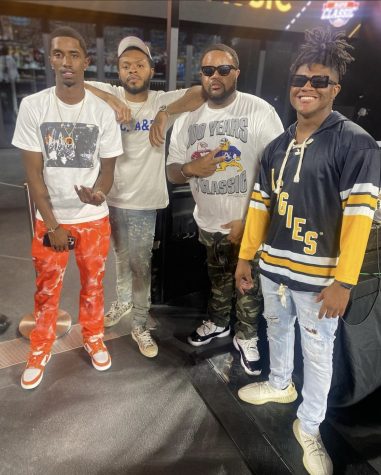 Combs took the field early in the game after he was introduced by N.C. A&T student and the number one HBCU Host Christian Kornegay, also known as CDK on the Mic, who calls this a surreal moment. 
"To know that not only was I able to be a part of history with it being the 100th year anniversary, to know that celebrities respect and want to embrace HBCU culture is what makes this moment that much greater," Kornegay said. "Having an arena filled with people from all generations that feel the same way I do about our culture is priceless."
Though the Aggies were unable to pull through with a win, Combs still showed love to N.C. A&T.
Combs' performance was a bright spot for many Aggies that were not enjoying the game against Central. 
As for what's next for the young star, Combs is looking forward to pushing out his debut album later this year. According to iHeart, Combs is putting the final touches on his first album. 
"I'm definitely about to drop my album real soon," Combs said. "We got the project coming at the end of this year for sure. I'm excited for them to hear it. Next project is going to be the debut album so it's going to be a movie."