N.C. A&T senior elementary education student T'Asia Williamson provides adequate resources and support to women seeking academic excellence through her nonprofit organization, The Grace Initiative.
Founded June 1, 2022, The Grace Initiative is a nonprofit organization that raises awareness of the many issues that young women face, such as lack of inclusivity and access to quality learning environments, while providing support to promote academic and professional development.
Creating this organization was so important to Williamson because of her belief that young women deserve to be supported when pursuing educational endeavors.
"Being a representative for N.C. A&T's College of Education which is something that I have dedicated my time, energy and intellect into, has been a rewarding experience that reflects into my non-profit," Williamson said.
Through her organization, Williamson helps provide financial, emotional, mental and social resources to young women who may consider pursuing a higher level of education.
In addition to her non-profit, Williamson is very active on campus and throughout the community. She currently serves as a campus impact manager for Bumble Honey, is a campus representative for Victoria's Secret PINK and is the social media co-chair for Have Their Hands, Inc.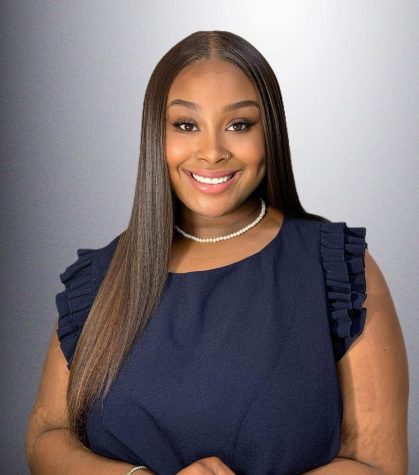 Community service is also something Williamson has always felt very strongly about. As an education student, Williamson is very devoted and finds it imperative to pour into the local community that has always given back to her.
She believes that the most valuable aspect of life is the knowledge that one possesses, and an investment in knowledge pays the best interest.
"I believe that the greatest things in life happen when you least expect it," Williamson said. "Creating this organization was well beyond what I felt I was capable of doing, but [my] passion and drive for service instilled an unshakeable faith in me."
The organization has been in collaboration with several community organizations to provide service opportunities for those in need. These partnership initiatives include but are not limited to BackPack Beginnings and they have supplied resources in eight locations for The Blessing Box GOLDsboro.
"Since its start, The Grace Initiative has provided students all across North Carolina with over 100 volunteer hours, but our impact does not stop there," Williamson said. "This organization has provided me and my 70 members with the platform to execute our ideas of philanthropy, service, and academic excellence."
The future of this nonprofit organization lies in its plans to eventually partner with Title I schools, provide scholarship opportunities for students in need and gather mental health resources for women who aspire to reach academic excellence.
"I had a vision to serve and provide adequate resources to K-12 students in North Carolina. I thank everyone who trusted in this vision. I am astounded by the support that I have and even more grateful for the growing community that I am building," Williamson said. " Stay tuned for more opportunities from us."
For more information on T'Asia Williamson and The Grace Initiative be sure to follow on Instagram for updates.