From a young girl hailing from Seattle, WA., to a young woman finding her way in the pageant industry, N.C. A&T senior marketing student Chandler McBride sets her sights on Miss North Carolina USA.
Pageants are typically known for the glamorous gowns and high-fashion struts across the stage, but Mcbride's love for pageants is rather unique.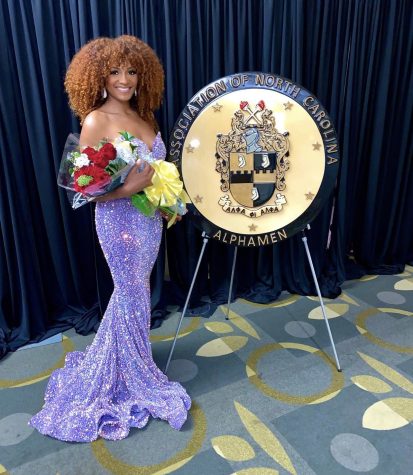 "One thing I love about pageantry is having the opportunity to talk about causes near and dear to my heart while advocating for them on a large scale," McBride said.
McBride credits most of her pageant inspirations to the women that had come before her and laid the foundation.
"When it came to pursuing Miss North Carolina USA, all I could think of were the women that were also titleholders in the Miss Universe Organization and everything they accomplished during their reign," McBride said. "There is so much I want to accomplish in this life, and I couldn't pass up an opportunity with a platform this grand."
The pageant world is nothing new for McBride. She currently serves as Miss Greensboro USA, the 2022-23 Miss Black and Old Gold of the Beta Epsilon chapter of Alpha Phi Alpha Fraternity, Inc. and formerly served as Miss 1906 for the Beta Epsilon chapter of Alpha Phi Alpha Fraternity, Inc.
McBride had an unconventional journey to N.C. A&T. Before transferring, McBride began her collegiate career at Dillard University in New Orleans, LA, where she served as Miss Freshman.
McBride was transparent about the realities of being a transfer student and having no family nearby.
"Transferring amid a global pandemic was probably one of the most difficult things I've ever had to do," McBride said. "There were barely any students on campus, and my social life felt stagnant. I'm nearly 2,000 miles from home, with no family nearby. Not having a social element during my sophomore year affected my mental health."
Despite having a challenging first year as an Aggie, McBride demonstrated the utmost resilience and found her footing at N.C. A&T. 
"Beginning of my junior year, I started to get out of my shell a little bit more," McBride said.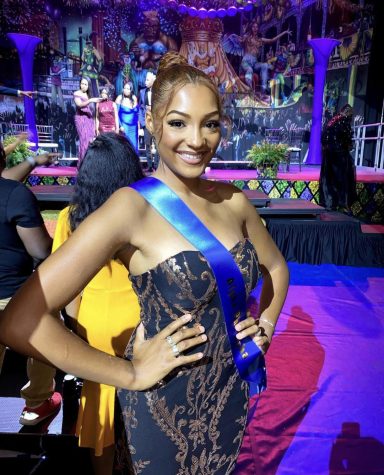 "I joined great organizations that helped me get better acclimated with N.C. A&T. I gained leadership positions and enjoyed watching my peers positively impact local communities."
McBride's collegiate experience did a 360, as she has built quite the resume since her sophomore year at N.C. A&T. She is a member of the Alpha Phi Chapter of Alpha Kappa Alpha Sorority, Inc., collegiate co-president of Nxlevel Lifestyle and Entertainment, SGA Communications Committee member and a Victoria Secret PINK Campus Trendsetter.
McBride brings a certain level of legitimacy to the term "Aggies Do."
"I'm proud of my accomplishments at N.C. A&T. Now, I hope to add another to the list," McBride said.
Although pageant preparation can be physically demanding, McBride notes that mental preparation is crucial.
"You have to get to a point where nothing can shake you," McBride said. "Being on stage with dozens of beautiful women, it is easy to fall victim to comparison. Going into a pageant with a great mental state allows you to fully embrace the moment and take pride in what you've done – win or lose."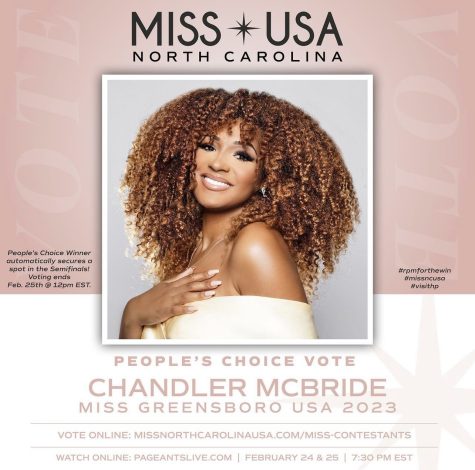 After living out her childhood dreams of competing in pageants, becoming Miss North Carolina USA would be a grand slam for McBride.
"Since starting college, I told myself never to shy away from opportunities, even if it scares me," McBride said. "I'd be lying if I said I've never dealt with low-self esteem or anxiety, but I never want to rob myself of opportunities again."
If McBride goes on to win Miss North Carolina USA, she will automatically get a bid in the Miss USA pageant and have the opportunity to become the fourth-ever Miss USA winner to represent North Carolina and the first from N.C. A&T.
The Pageant is set to take place on Feb. 24-25 at High Point Theatre.
Voting is open for Miss North Carolina USA. To stay updated on the Pageant, visit Miss North Carolina USA.