In the midst of pro-life protestors gathering in N.C. A&T's campus with their megaphones and expressing their beliefs, the show indeed went on as Vice President of The United States of America, Kamala Harris, graced us with her presence, as her second stop on her "Fight For Our Freedoms" College Tour.
Background on the "Fight for Our Freedoms" College Tour
The "Fight for Our Freedoms" College Tour is a month-long national swing to mobilize thousands of young people in the ongoing fight for fundamental freedoms and rights. Harris is set to continue her tour, visiting around a dozen campuses of various diverse backgrounds. 
The White House visits Aggieland on their Road to Success Back to School Bus Tour
The college tour officially kicked off on Thursday at Hampton University and is a continuation of her dedicated work to energize, engage, and partner with young people throughout the country. 
Info on the VP's visit to N.C. A&T State University
While on campus, Harris participated in a moderated conversation with two A&T alumni – U.S. Environmental Protection Agency (EPA) Administrator Michael Regan and Oscar-winning producer, actor and entertainment reporter Terrence Jenkins, better known as Terrence J.
As someone who made history as the first woman and first historically Black college or university (HBCU) graduate to hold the role of vice president, her visit to America's largest HBCU was a historic moment.
President Joe Biden addresses N.C. A&T: 'Everybody is realizing what an incredible asset HBCUs are'
Thousands of Aggies all came together in Corbett, including the award-winning Blue and Gold Marching Machine and cheerleading team, along with Student Government Association (SGA) leaders; to witness the discussion that would happen with the trio of esteemed HBCU alumni when they hit the stage.
N.C. A&T react to US President Joe Biden's Visit to the University
Among the many big names in the room included high-profile government officials: Congresswomen Alma Adams and Kathy Manning and Governor Roy Cooper.
SGA President Jasmine Amaniampong introduced the trio before they took the stage. In her introduction, she called their visit "a call to action to fight for our freedoms."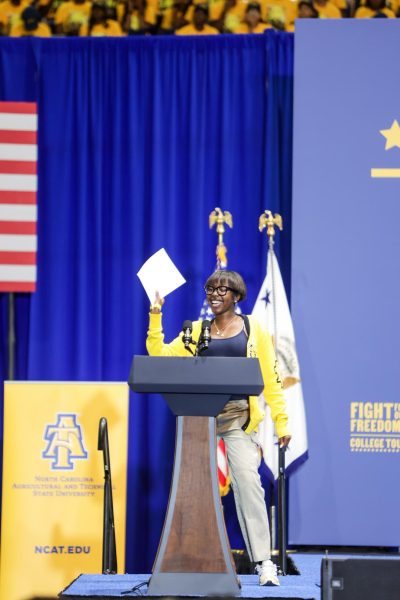 Discussions between Jenkins, Regan and Harris hit on issues ranging from climate change, reproductive freedom and student loans to gun violence and voting rights.
VP Kamala Harris visits senior center in Durham, NC
Voting rights were understandably one of the big topics of the conversation, especially with the 2024 elections approaching. Harris emphasized the importance of using votes to create change. 
"But when you vote, you have the ability to determine the future of our country in a way that might challenge a lot of people's notions about what is possible and who can possibly do it," said Harris.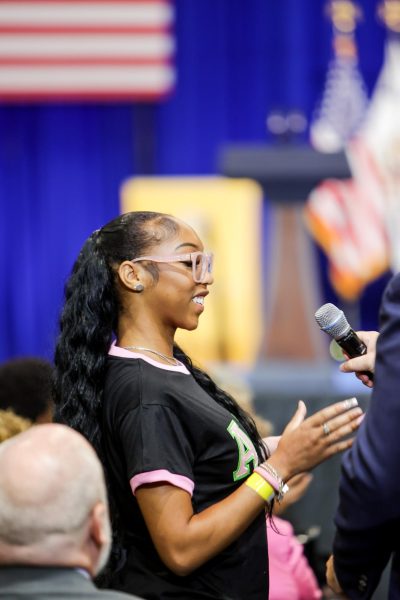 Throughout the conversation, talks also touched upon the recent attacks on DEI and the laws that are being implemented to restrict it.
Regan, who formerly served as secretary of North Carolina's Department of Environmental Quality, asked Harris about the efforts to rewrite history, erasing the legacy that made HBCUs necessary.
"Black history is American history. Period," said Harris. "And America's full history must be taught."
Towards the end of the discussion, a few students, Brandon Daye, Kylie Rice and Charles-Anthony Woodfork, were allowed to ask the vice president questions about what young citizens can do to combat various issues within gun safety, health, public policy and more.
Vice President Kamala Harris finished her visit with these words for the audience of Aggies in attendance. 
"Get out there, own your power, tell your truth right now because your country needs you," she said. "And I say that as vice president of the United States."
Sit down with Vice President Kamala Harris
Just before the vice president came on stage to speak to the students, our Editor-in-Chief, Rosegalie Cineus had an opportunity to speak with Madam Vice President, Kamala Harris, in an exclusive interview.
White House, VP Kamala Harris host Briefing with HBCU Student Journalists and Representatives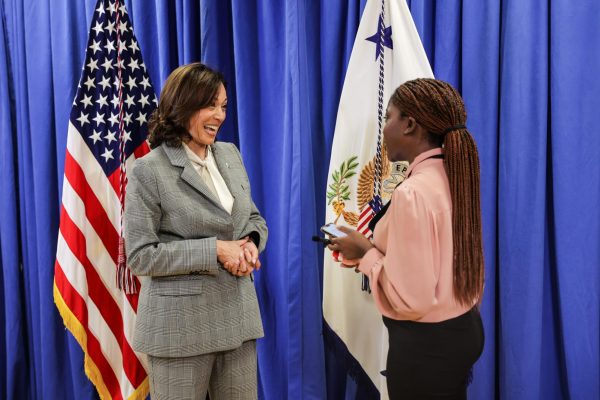 Rosegalie Cineus: You could have gone to any other HBCU in the country, why was it important for you to include A&T as one of your stops?
Harris: "Well A&T first of all, is producing and historically has produced some of the greatest of our leaders, as a country and global leaders; people who have gone on to have an impact around the world."
"So being here was really important to me to be able to talk to the leaders who are here, the young leaders. To let them know, first of all, that I see and hear them, but that I also want to be where you are, and listen, be here on the ground."
"And so I'm really happy to know that so many of our young leaders of the students here at A&T are ready to lead. And to have these conversations in a way that's about empowering each other and the country."
Rosegalie Cineus: So you have your own paths with activism, especially at a young age, and your own HBCU connections with being a Howard alum and a part of the D9 Greek organization. How have those moments influenced your path up to this point, especially as a Black woman?
Harris: "I mean, aside from my family, and the community that raised me; having attended an HBCU, during those very important years, which is when you enter adulthood, and think about your relationship, not only to your family, but to the world."
"And to be in an environment that reminds you, you can do and be anything, and that there will be a place and a community that supports your ambition and your aspirations. It's a very special thing."
"And part of why I'm here at A&T is to also hopefully remind the students who are currently here, that that's where it's going to end up, it's going to end up that you will years later, understand how special this moment was, in addition to how special you know it is right now."
Rosegalie Cineus: Black people, as a community, have incredibly deep roots in activism, protests and political reform, especially here at A&T. But with the rise of distrust in authority figures, government and the recent polarizing political climates, with your resources and connections, how do you plan to help Black youth mobilize in the fight for their rights, especially when some may feel there is no point? How important is it for them?
Harris: "It's critically important. And that's why I'm here because I'm not only here as a proud graduate of an HBCU. I'm here as vice president of the United States."
"And so this is very intentional, on my part. To be here, as vice president of the United States, to remind all of the young leaders who are in this auditorium that your nation is counting on you, [and] is cheering you on for your role of leadership."
"[I] truly believe that when we look at some of the most challenging issues affecting our country in the world when you all are active in your numbers, and in particular, when you start voting in your numbers, some of these most intractable and long-standing issues are going to be addressed in a way that will be productive. And in the best interest of everybody."