New York Fashion Week (NYFW) is when the fashion industry's top designers exhibit their latest collections to potential buyers and the media. 
Influencing the new trends with creative and interesting fashion pieces that get social media talking. NYFW began on Friday, Sept. 8, and ended on Wednesday, Sept. 13. 
The heart of many of these exclusive fashion shows is known as Spring Studios, the main headquarters for NYFW. But various designers also host runway shows throughout the city. This year, the famous week full of fashion, fun and creativity premiered over 70 brands, including Helmut Lang, in its first brand premiere.
Helmut Lang features cutting-edge, minimalist and deconstructive fashion styles. Peter Do was recently appointed as the new face behind the creative direction for Helmut Lang in May. 
"Things have been so complicated recently in fashion," Do told GQ. "I feel like there's something non-fussy, straightforward and honest about the clothes that Helmut made, and that is something that's been missing." 
Do's style for Helmut Lang's new collection was inspired by fashion from the 90s with the concepts of 'deconstructionist' and 'minimalist,' hoping to bring the brand back into its former glory. 
Ralph Lauren also made a return to NYFW for his first show since 2019. Lauren hosted a runway show at a warehouse space in Brooklyn, giving the audience a look at the new collection which merged luxury with casual wear. 
Advisry, one of the five first-time additions in NYFW, exhibited its designs for Season 10 called 'Technicolor." This collection flaunted personality by blending formal, streetwear, prep and sportswear styles.
Jordan Myles Clark a junior journalism and mass communication student and a model for Couture Productions, a modeling org. Here at N.C. A&T was given the opportunity to walk in NYFW with the help of The Model Experience. The modeling company paired Clark up to walk for The Dysign House, a brand celebrating unisex couture. 
"The Model Experience gets you an opportunity to walk in New York Fashion Week or LA Fashion Week," Clark said. "You would have to send in your measurements, height, weight, etc. and then you would get paired with a designer. I got paired with The Dysign House." 
Clark loved the experience of NYFW, getting the chance to network, have his dreams come true and see the upcoming brands. 
"I always wanted to be that type of person that would be known for fashion week," Clark said. "My fashion week experience was literally the best I've ever done and what's most important is my family and friends were watching." 
Sophomore information technology student, Malcolm King, experienced NYFW virtually, watching the runway shows through livestream and catching highlights from different events. 
"I know a couple of people that walked in some shows, so it was lit," King said. "They had this influencer creative mixer that was cool. It seemed like a pretty good vibe." 
Although King isn't too big into fashion, NYFW is an experience that he said he would love to go to. 
"If I had the opportunity, I would go," King said. "I would probably want to walk and experience New York because I've never been to New York. New York Fashion Week is pretty big so it would be a dope opportunity to be a part of it." 
Skylar Stallings, a junior kinesiology student, looked for outfits instead of specific brands during NYFW. 
"I try not to watch specific brands." Stallings shared. "More of different looks and outfits people put together." 
Stallings loved celebrity looks from Coi Leary dressed in Dion Lee and Alton Mason dressed in Rick Owens. Outside of celebrities, new trends of lace and mesh, pleated skirts with ties and different head accessories captured Stallings's eye.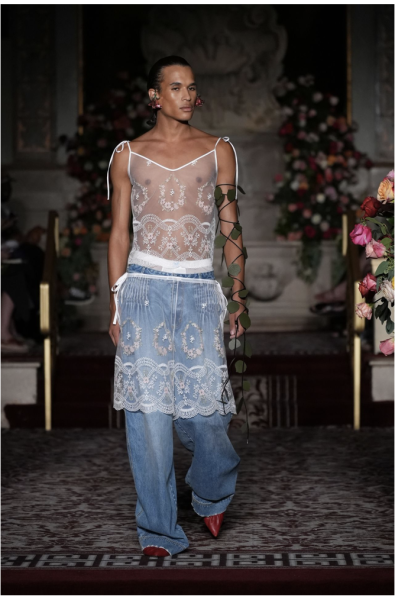 NYFW ended with The Blonds, a brand that uses luxury materials 'juxtaposed' with accessories of spikes and chains. This year The Blonds demonstrated their collection inspired by old Hollywood glamour. 
This year's NYFW was known as a more public event, taking some of the exclusiveness of the usual festivities away. 
This is the first full New York Fashion Week without COVID regulations since the pandemic, leaving the fans and media talking about the new trends with designers in their efforts to balance between polished and classic silhouettes. 
The new pieces shown throughout the week won't be in retail stores until six months from now, however, fans can start planning their styles and outfits by watching recorded live streams of some shows on the NYFW website.