On Saturday, Sept. 9, over 400 hip-hop legends and lovers gathered at Vice President Kamala Harris's backyard to celebrate 50 years of hip-hop music. 
 This celebration was to commemorate the history of Aug. 11, 1973, the date many people believe hip-hop was created. 
On that day, Clive Campbell, more commonly known as DJ Kool Herc, hosted a community back-to-school party in the Bronx, New York, kickstarting the early Hip-Hop movement.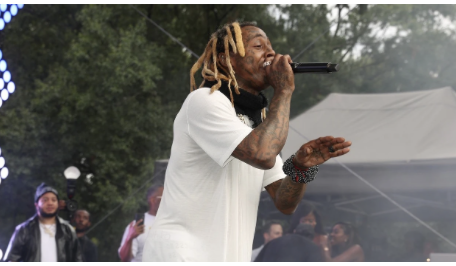 Harris hosted what she dubbed the "hip-hop house party," in collaboration with the Recording Academy and the Black Music Collective. 
Many took to social media to commend the Vice President for hosting the event, applauding her for celebrating hip-hip publicly. 
One user said, "Kamala Harris put together a better 50 years of Hip-Hop tribute than MTV did." 
On a huge platform placed in the center of Harris's backyard, influential rappers, young and old, graced the stage to wish the beloved genre a happy birthday. 
To name a few, Lil' Wayne, Common, Slick Rick, MC Lyte, Wale and many other amazing artists got on stage and showcased the diversity and beauty of hip-hop. 
The crowd seemed to truly enjoy the atmosphere and event, with many videos of celebrities jamming out going viral. The most popular one was a video of Harris loosening up to "Vibrant Thing" by Q-Tip. 
In addition to the electrifying performances and dance breaks, Harris made it a point to get on stage and express her appreciation for hip-hop. 
"Hip-hop is the ultimate American art form that shapes every aspect of America's popular culture," Harris told abc7. "Hip-hop culture is American culture."
Her gratitude made some N.C. A&T students proud to see hip-hop culture getting the recognition it deserves; after so many years of telling the stories of an overlooked urban America.
Sophomore computer graphics technology student, Amia Rice, agreed with Harris's sentiments. 
"Without the cultural foundation that we have set as a people, most of what we know to be popular today wouldn't exist," Rice said. 
Not all students feel hip-hop shaped all of America's culture, including Aiden Hinton, a sophomore mechanical engineering student. 
"Saying hip-hop shapes every aspect of American culture is a very broad statement," Hinton said. "I do believe that it has helped shape many aspects in America. I personally feel that pop as a culture helped us explore and grow the most."
"But language, style and even politics now is heavily influenced by hip hop," he continued.
Hip-hop does impact some of the most significant elements of society, despite the constant evolution of its sound, current stars and music platforms.
What the future holds for this musical genre remains a mystery. But it's clear that its presence in the entertainment industry is far from over.