After a tedious 148 days, the writer's strike has ended. A tentative deal has been made between the Alliance of Motion Picture and Television (AMPT)  and the Writer's Guild of America (WGA). The new three-year agreement was ratified by 99% of the union's members, who voted it in on Oct. 9.
Beginning May 2, over 11,000 WGA workers went on strike, demanding that several overdue needs be met. This included contracts that protected writers from developing and using artificial intelligence, fairer deals and a more dependable compensation structure.
Celebrities from all statuses protested on the picket lines in front of studios in Los Angeles, New York City and other metropolitan areas.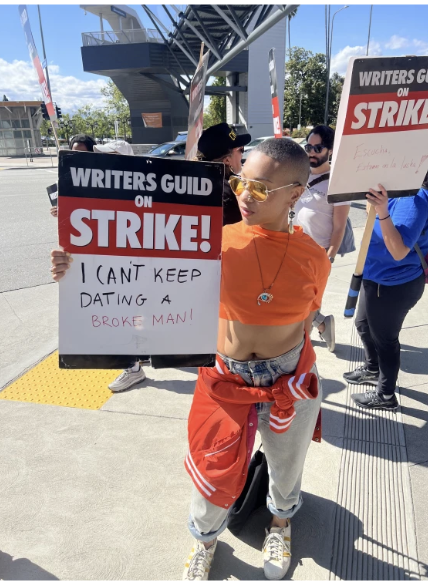 Many videos of actors such as Tichina Arnold and Leslie Jones have gone viral on social media for speaking about the importance of being fairly paid as workers for big machine companies.
"I've been in show business all my life since I was 11 years old. This is all I've ever known," Arnold said. "As workers, we want fairness, better healthcare and better residuals. I literally get one cent residuals… so we gotta make a change."
Despite the AMPTP initially offering the WGA $86 million, the deal's total value eventually amounted to $233 million, according to the WGA.  However, though the battle for writers is over, actors for SAG-AFTRA, the Federation of Television and Radio Artists, must make a deal with AMPTP.
Many viewers across the globe have expressed feelings of excitement, knowing their favorite shows will return soon.
Denver Brown, a sophomore political science student, explained how she is glad both parties are now at peace. 
"I think that this is good because now the writers and producers will have some sense of unity and will no longer be at odds with each other and can start back making art," Brown said.
The rise of streaming platforms has played a major role in the way writers were paid prior to the strike. In the past, streaming services have not been honest about the viewership data according to vulture.com. 
Fortunately, the new deal requires the WGA to receive viewership data and a 50% bonus residual payment for writers if a show or film is "viewed by 20% or more of the service's domestic subscribers in the first 90 days of release" according to Forbes.
Nina Monsanto, a sophomore journalism student, expressed her impatience and eagerness for the return of peak TV. 
"It's about time," Monsanto spoke bluntly. "I was tired of watching older 90s sitcoms and re-binging some television dramas like Grey's Anatomy. Even your favorite shows can get old after a while, so it's nice knowing writers are back." 
Though the writers are back, there are still many questions up in the air about the future landscape of entertainment in Hollywood. 
How much longer will SAG-AFTRA members be on strike? Will subscription prices to streaming platforms increase due to the new deal? What will happen when the deal expires in three years and AI has developed even further?
No one knows the answers, but several are optimistic due to the unity displayed this week between Hollywood's CEOs and writers.