The A&T Register staff reflect on the Fall National Media Convention
Four students traveled to Louisville, Kentucky from Oct. 25-28, 2018 to sharpen their skills and explore the world of journalism.
From Oct. 25-28, 2018, four students of The A&T Register took a trip to Louisville, Kentucky for the Fall National College Media Convention.
Associated Collegiate Press (ACP) and College Media Association (CMA) hosted the convention at the Galt House Hotel in downtown Louisville.
College students and advisers seeking advice and tips about student-produced media were in attendance.
The multi-day convention included networking opportunities, informative panel discussions, hands-on tutorials and access to media professionals. The event covered all aspects of college media, from rapidly changing multimedia platforms to newspaper, broadcast, yearbook and magazine journalism.
During the duration of the convention, there were more than 275 sessions going on all day. Other highlights of the convention included ACP and CMA's awards programs, critiques for college media publications and a film festival competition.
Take a look into their journey and how students have learned from their experience at the convention:
ZILA SANCHEZ, JUNIOR | MANAGING EDITOR
"The first day of the National Media Convention was a whirlwind. Upon arriving at the hotel (which is so unique), I was overwhelmed by the number of students I saw who attended this convention with the passion me and my staff have for journalism.
We dived straight into the sessions, ready to soak in as much as we could. The first session I attended was 'Know Your Rights,' led by Brynne Madway and Adam Goldstein from the Foundation for Individual Rights in Education (FIRE).
Hearing other students voice their struggles and concerns regarding public record access resonated with me, as our newspaper often faces the same obstacles.
My biggest takeaway from that session was that we – student journalists – have the power to access the same information professional media outlets use.
Another session I attended during the trip was 'Creating Something Out of Nothing' which was led by Spencer Holladay from USA Today Network. Design is something I have been interested in a long time, and I think our publication (like any other) should build upon its design structure set in place. The problem with that, however, is our staff does not have a complete team to lead the way. In that session, I learned how to equip myself with tools to build bold, conceptual pages using typography, infographics and illustrations.
Overall, I'm eternally grateful to have been a part of this convention. I've met other student leaders from across the nations that I plan to keep in contact. I enjoyed Louisville so much more than I anticipated, and I am excited to one day return."
ELAIJAH GIBBS-JONES, SOPHOMORE | theYARD EDITOR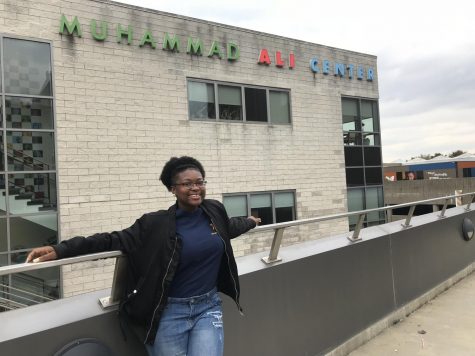 "The second day of the convention was extremely eventful. My first session, 'Making it in New York,' taught me a lot about how to survive and obtain internships and jobs in the New York market.
The other session I attended was, 'How and Why You Should Report on Student Government.'
In this session, I received a lot of validation in terms of contacting and reporting on SGA. I learned new strategies on how to obtain information as well as how to not give up when it comes to contacting them. This session was very beneficial as it reminded me that my main job is to hold student leaders and the Administration accountable. It even sparked new ideas for me for my section. I learned that I should know the Constitution all the way through so that I am aware of what is and is not constitutional in terms of SGA.
Our visit to the Courier-Journal was also very beneficial. We toured the Louisville Design Studio, newsroom and press room. The studio was very interesting as it featured a wall of different front covers the Courier creates, not only for Courier-Journal but for USA Today as well.
In the newsroom, we learned more about the analytics and met Courier reporters and editors. The press department showed the formation of every newspaper.
JAROD HAMILTON, SOPHOMORE | theSCORE LEAD REPORTER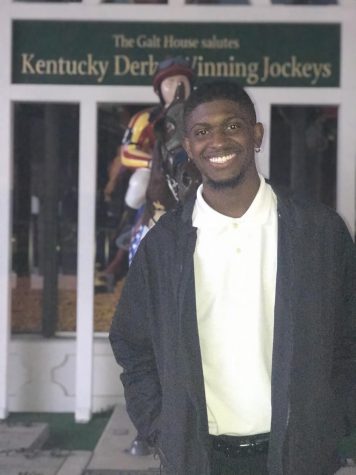 "The first day of the National Media Convention, I attended 'Anyone Can Be A Photojournalist.' The session was led by Andrea Mason who is the only photojournalist teacher at Arapahoe Community College in Littleton, Colorado.
She explained her experiences and tips from being an inexperienced amateur photojournalist to what she described as a "mediocre" photojournalist. She went into detail about how she was a natural writer and how she became a photojournalist simply because her manager asked if she knew how to take pictures and she replied "I have a camera," not, "Yes, I know how to take pictures."
Simply put: anyone can be a photojournalist.
Some tips she gave to be a 'mediocre' photojournalist was knowing when and where to take pictures, finding out who has good pictures if you do not have them, having captions match the pictures, and understanding the requirements of the assignments and or articles.
Furthermore, she concluded that a way to take great pictures is to take a lot of them and do not be afraid to get the shots you want to get from your subjects.
Have confidence behind the camera! If you have confidence, then your subjects will have more confidence in taking pictures and the pictures will come out much better.
The final day of the convention was headlined by former ESPN Around the Horn personality, J.A. Adonde, of Northwestern University. His session was called, 'Reporting on Sports When It Is Campus News.'
This was about campus stories that involved sports figures or teams happening outside the field of play. He answered my question about expanding the brand of my articles and the articles of the school. He said that new and unique articles would expose ourselves more. This gave me the idea that we should lean more towards doing sports columns where we can add flavor and personality. Getting feedback from someone I've been watching on my favorite network for the past ten years was a great way to end an awesome three-day experience at the National Media Convention!"
JAYLIN SAUNDERS, SOPHOMORE | theSCENE LEAD REPORTER
"Seeing other young, aspiring journalists who were there to further their knowledge was amazing. There was a table full of newspapers from the other colleges and it was interesting to see how students from different places and backgrounds covered things.
The first session I attended was 'Networking, Resumes, and Interviews,' led by Piper Jackson-Sevy. In this session, she shared tips and tricks about selling yourself to people. Also, show taught us how an interview is like a performance and gave us tips on how you should please the interviewer.
One thing that I learned from that session that really stuck to me was you should always ask questions at the end of the interview because it shows that you are genuinely interested in the position, and it gives you a better chance at obtaining it. After hearing that, it really made me think about how I do in job interviews and also how I could improve.
The next session I attended was 'Rookie Moves: News Design 101' which was led by Ryan Hildebrandt from the Gannett Louisville Design studio. I learned about the many mistakes that can be made when designing your newspaper. Some of the mistakes include editing too much via Photoshop, ignoring the grid, not reading the story before making graphics and not being able to learn from your failures. One thing that Hildebrandt said that stuck with me was you are in control of your own improvement.
The trip to Louisville was an amazing experience. I've never been so sure that journalism is my calling until now. I can't wait to see what more I can do with the information I have gained from this trip."